Product introduction
The dry type distribution transformer is casted with epoxy resin, which are made of high quality materials by means of a strict process with advanced production and testing devices.The product features high reliability and long service life. In accordance with different operation environment, it can be equipped with different protection casings or without casing. This dry type transformer power distribution can replace the oil-immersed transformer and be used in the high buildings, business centers, airports, tunnels, chemical plants, nuclear power stations and watercrafts etc.
Model designation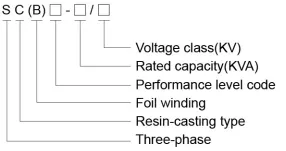 Working condition
1. Altitude should not be over 1000m: indoor type
2. Highest ambient temperature should not over: +40°C; Highest daily average should not over temperature: +30 °C
3. Highest annual average temperature should not over: +20°C , lowest temperature should not below -5 °C
Non-standard transformer is accepted to redesign as per customer requirement.
Reference standards
1 .Dry-type power transformer: GB1094.11-2007
2.Technical parameters and requirements for dry-type power transformer: GB/T10228-2008
Performance characteristics
1.The iron cores are made of imported high-conduction magnetism, cold-roll, and grain-oriented silicon-steel sheets, and the thickness of the core is less than 0.3mm. The surface of the core is covered by epoxy resin which make the core can be moisture-proof and rust-proof.
2.Low voltage winding is bobbin winding which is made of brass foil except some small capacity ones use cooper line; and high voltage winding is multi-layers boddin winding, so the flux leakage of the winding is low, and the mechanical strength is high.
3.The transformer can match air cooling device with low noise. And the fan can be controlled by temperature controller to open and stop, so that the transformer can operate when capacity is 40% higher than rated.
4.Through the temperature-sensing element and sensed system imbed in the low voltage winding to protect the transformer.
5.Transformer matches crust with IP20/IP23 which can prevent short circuit caused by little animals.
Order information
Rated capacity: KVA
Number of phases: three-phase口 single-phase口
High voltage: KV
Low voltage: KV
Frequency: 50HZ口 60HZ口
Tapping range: ± 2 x 2.5%口 土 5%口 other口
Connection group: YynO口 Dyn11口 other口
Impedance voltage: 4%口 6%口 other口
Cooling method:ONAN 口 ONAF 口
protecting grade of outer casing:IP00 口 IP20 口 IP30口 other
Order information
Method of incoming and outgoing line:
1.Incoming line to lower part and outgoing line from upper part
2.Incoming line to upper part and outgoing line from upper part
3.Incoming line to lower part and outgoing line from side part

*The default color of shell is light grey . Please indicate the color when it is different from your requirement.